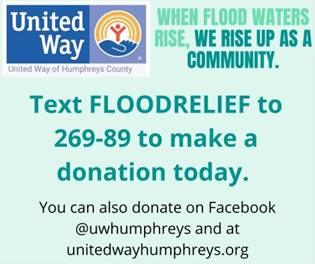 TAUD Board and Family –
It has certainly been a humbling, putting life in proper perspective, last couple of days here in our part of the world.  As you are probably aware, Saturday morning in Dickson, Hickman and Humphreys Counties began with heavy rainfall that led to record-event flooding.   Our system suffered approximately 12 inches of rain within about 12 hours but only resulted in a few water main ruptures along adjacent creeks in the more rural areas of the system and minor flooding at a wastewater plant.  We were very fortunate and were back up with all repairs made by early Sunday morning.  This is certainly something you would not expect at the end of August in Middle TN.
Our neighbor to the west the City of Waverly experienced a much more catastrophic disaster.  Reports are between 17 and 19 inches of rain fell (a state record) on this small town that lies in a valley with Trace Creek running through the middle of it.  Parallel to the creek is an elevated railroad bed that acted like a levy when flooding debris clogged the bridge over Trace Creek where the creek enters the town.  At some point the railroad "levy" burst and created a tsunami wave that rushed a wall of water into the town, giving many little to no time to safely evacuate.  Currently 18 are confirmed dead with more still missing, some of them being infants and children.  The scenes are shocking and remind you of the aftermath of a hurricane's surge.
In times like this I'm reminded of how blessed we are and how moving it is to see the best in our fellow man with folks out helping these victims.  The last couple of days it has been an honor to have our guys here at WADC work with Freddie Weston and his guys from West Wilson UD along with the guys at Vanleer Water, who only have a total of five employees, in assisting Waverly's water department.  Freddie called me this weekend when he heard what was going on to see if we needed any help.  I told him we were good, but Waverly was in a much worse position.  After Vanleer's Manager Darren Green and I visited Waverly on Sunday and reported back to Freddie that Waverly's primary water plant was flooded and offline,  he mobilized and army of WWUD's guys and was on site early yesterday morning.  The plant is now up and running and our joint forces are helping make some distribution system repairs and turning off services.  Thank you Freddie.  It's an honor to call you my friend.  Also thank you Tony Wyatt from TAUD.  Tony and I had multiple conversations on Sunday, and he also was onsite much of yesterday.
Here is the most important part.  The people of Waverly have suffered a tremendous loss with many losing everything they own.  The last count heard was that over 100 houses are off their foundations.  Though I'm not aware of the total number flooded/destroyed and a bit reluctant to estimate a number, it would not surprise me if 200 homes are completely lost in this small rural town of 4,000.   A number of our TAUD family have reached out to see if they could help.  Here's the best way to help, send MONEY.  Waverly is like many other small towns across the state and is primarily made up of average working-class people.  Though there's a ton of immediate help in the way of bottled water, food, clothes and volunteers, in a few weeks all the volunteers and emergency help will be gone.  These people will have longer-term needs that can best be facilitated by your donations.  If you would like to help, please see the local United Way contact information above or contact TAUD and staff will make sure your donations get where they need to be.
I apologize for the lengthy email; but this event has really touched my heart, and I wanted to share it with you.  Thank you guys for always being there and supporting our communities!  Let us honor and give glory to our Lord by loving our neighbor! Mark 12:31 / Matthew 25:40
Mike Adams
WADC
https://taud.org/wp-content/uploads/2020/05/Taud-Logo-300x73.png
0
0
Greg Baker
https://taud.org/wp-content/uploads/2020/05/Taud-Logo-300x73.png
Greg Baker
2021-08-24 18:56:47
2021-08-24 19:00:47
Waverly Flood Message