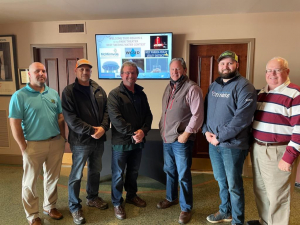 The Tennessee Association of Utility Districts (TAUD) held the Region Four Best Tasting Water Contest at the Park Theatre on Thursday, February 25th.  McMinnville Utilities was awarded best tasting water in the region.
TAUD Region Four consists of Clay, Cumberland, DeKalb, Fentress, Jackson, Macon, Overton, Pickett, Putnam, Roane, Smith, Trousdale, Warren and White counties.
Other utilities from Region Four submitting drinking water samples for competition were: Byrdstown Water Department, Crossville Water & Sewer, DeKalb Utility District, Warren County Utility District and West Warren-Viola Utility District.
TAUD Board President Pat Riley, Jason Kouba of TN811, and Retired Police Chief Bryan Denton participated as judges for the contest.  The drinking water samples were judged on their clarity, bouquet, and taste.
This spring, TAUD will conduct the Best Tasting Water in Tennessee Contest in each of our eleven regions.  Each regional winner will compete at the Association's 2021 Business Conference at the Gatlinburg Convention Center on Thursday, August 12th.  The statewide winner represents TAUD at the Great American Taste Test held in conjunction with the National Water Association in 2022.
Pictured left to right: Jason Kouba, Rob Bernhardt (McMinnville), Chief Bryan Denton, Ricky Morton and Peyton Collins of McMinnville, Pat Riley
https://taud.org/wp-content/uploads/2020/05/Taud-Logo-300x73.png
0
0
Beth Hardiman
https://taud.org/wp-content/uploads/2020/05/Taud-Logo-300x73.png
Beth Hardiman
2021-03-02 12:47:28
2021-03-02 12:47:28
McMinnville Utilities Wins Region 4 Best Tasting Water Contest